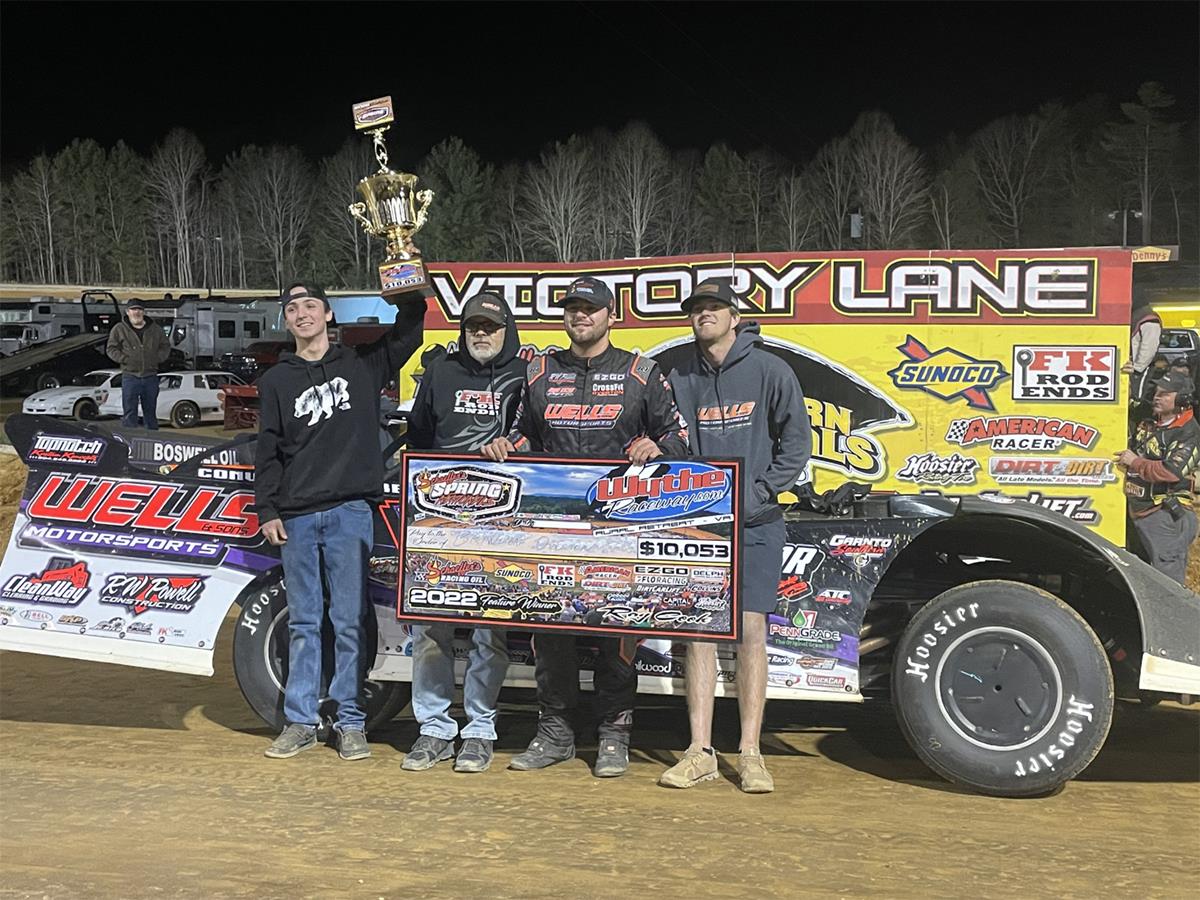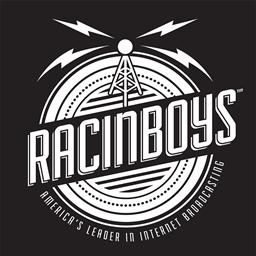 ---
Overton passes Davenport for victory off last turn
By Ryan Delph (Retreat, VA) -- Pulling off a dramatic pass of race-long leader Jonathan Davenport on the final circuit, Brandon Overton picked up his second Schaeffer's Oil Spring Nationals Series victory of 2022 on Friday night in front of a huge crowd at the picturesque Wythe Raceway in Rural Retreat, Virginia! Brandon ran second in his heat race during preliminary action to earn the outside of the second row for the start of the 53-lap headliner. The Evans, Georgia standout advanced up to second in the first half of the feature distance before setting his sights on outside polesitter Davenport.
After hounding the Blairsville, Georgia driver lap after lap around the sprawling 1/2-mile speedplant during the last half of the contest, Brandon finally pulled the trigger heading into turn three on the final lap. His patience paid off in a big way, as the driver known as "Big Sexy" grabbed the point coming off of turn four and beat Davenport to the checkers by a mere 0.337 seconds to lay claim to the $10,053 windfall. Chris Ferguson, of Mount Holly, North Carolina, vaulted past two competitors to stand on the podium in third. Ross Bailes came home in the fourth position, while "MacDaddy" Dale McDowell streaked past four racecars to round out the top five.
Only two yellow flags slowed the action tonight at Wythe Raceway. Series regular Payton Freeman dropped a driveshaft on lap 17 to draw the first caution, while fast-qualifier and polesitter Chris Madden slowed with a deflating right front tire on lap 20 while running inside of the top five.
"Awesome race there with me and JD," exclaimed a jubilant Overton in victory lane. "It was just really hard to pass out there tonight and I really wanted to slide him earlier, but I knew I just needed to wait and wait. When I decided to finally make a move, I knew I needed to make it count. I just had to get a good run and then I could sail it off in the corner because my car would stick a lane lower than what he was running. Congrats to JD and his guys on a great race though, but I have to thank my whole Wells Motorsports team and all of our sponsors. We have just steadily been working on this thing and I'm really excited for the rest of the season!"
Brandon, who was the 2017 Spring Nationals Series Champion and now has six career series victories, piloted a Longhorn Chassis owned by Wells Motorsports and powered by a Clements Race Engine. Sponsorship of his #76 comes in part from CrossFit Overton, Allstar Concrete, E-Z-GO, Big Dog Stump & Tree, R.W. Powell Construction, Convenient Lube, Allstar Performance, Topnotch Kustom Koncepts, Penske Shocks, and Dirt Mafia.
A star-studded 23 car field assembled tonight at Wythe Raceway for the third round of the Schaeffer's Oil Spring Nationals Series. Chris Madden, of Gray Court, South Carolina, earned Fast Time honors during FK Rod Ends qualifying with his quick lap of 16.760 seconds. The trio of heat races, which saw each car transfer into the main event, were won by Chris Madden, Jonathan Davenport, and Kyle Strickler.
Next up for the Schaeffer's Oil Spring Nationals Series will be a visit to the bad-fast Tazewell Speedway in Tazewell, Tennessee on Saturday, April 16 for the second edition of the 'Lil Bill Corum Memorial.' Co-sanctioned with the Iron-Man Late Model Series, the single-day throwdown tomorrow at "The Taz" boasts a whopping $21,000 top prize. Jonathan Davenport secured the triumph in last year's inaugural version of the 'Lil Bill Corum Memorial' over a top five that included runner-up Kyle Larson, Tyler Erb, Dale McDowell, and Donald McIntosh.
There is also a $2,100 Fast Time Award up for grabs at Tazewell Speedway for pre-registered drivers - courtesy of Toyota Knoxville. The drivers that pre-entered for the contest and are eligible for the extra cash include: Ross Bailes, Scott Bloomquist, Stacy Boles, Kyle Bronson, Michael Chilton, Jonathan Davenport, Aaron Guinn, Christian Hanger, Vic Hill, Dakotah Knuckles, John Llewellyn, Chris Madden, Dale McDowell, Austin Neely, Brandon Overton, Garrett Smith, Steve Smith, Kyle Strickler, Ricky Weiss, and Mark Whitener.
On Saturday at Tazewell Speedway, the pit gates will swing open at 2:00pm and the hillside grandstands will start to fill up at 4:00pm. The Drivers Meeting is slated for 6:00pm, while hot laps will take to the track at 6:30pm. Adult grandstand admission for the 'Lil Bill Corum Memorial' will be $30.00 and adult pit admission will be $45.00. Kids 9 and under will be allowed into the stands for FREE, while kids 12 and under will be admitted into the pit area for only $35.00. There are also a limited number of camping spots (first come, first serve) available on the grounds for $20.00 nightly.
In addition to the ground-pounding Super Late Models, the Sportsman Late Model ($1,021 to win), Classic Car ($521 to win), and Street Stock ($521 to win) classes will also be on the racing card tomorrow. Tazewell Speedway is located at 1400 Bacchus Road in Tazewell, Tennessee 37879. If you can't make it to the track, we invite you to watch all of the action LIVE on www.FloRacing.com. For additional information, please call the track at 423-626-2222 or visit their official online home at www.TazewellSpeedway.net.
Schaeffer's Oil Spring Nationals Series presented by Sunoco Race Fuels
Round 3 Race Summary
Friday, April 15, 2022
Wythe Raceway - Rural Retreat, Virginia
Schaeffer's Oil Feature Finish (53 Laps):
(4) Brandon Overton $10,053
(2) Jonathan Davenport $5,000
(5) Chris Ferguson $2,500
(6) Ross Bailes $1,800
(9) Dale McDowell $1,250
(3) Kyle Strickler $900
(7) Jimmy Owens $800
(13) Carson Ferguson $700
(17) Jensen Ford $675
(10) Cla Knight $650
(15) Tyler Arrington $625
(12) Matthew Nance $600
(19) Kenny Collins $575
(21) John Llewellyn $550
(23) Freddy Mooney $525
(11) Brandon Williams $500
(16) Jeff Smith $500
(1) Chris Madden $500
(20) Payton Freeman $500
(18) Brenden Smith $500
(22) Travis Greer $500
(14) Michael Brown $500
(8) Ricky Weiss $500
Entries: 23
Lap Leaders: Jonathan Davenport (Laps 1-52), Brandon Overton (Lap 53)
Cautions: 2 (Payton Freeman drops a driveshaft on lap 17 & Chris Madden slows with a deflating tire on lap 20)
FK Rod Ends Time Trials:
Fast Time Overall: Chris Madden 16.760
Sunoco Race Fuels Heat Race #1 Finish (All Cars Transfer): 1. Chris Madden, 2. Brandon Overton, 3. Jimmy Owens, 4. Cla Knight, 5. Carson Ferguson, 6. Jeff Smith, 7. Kenny Collins, 8. Travis Greer
American Racer South Heat Race #2 Finish (All Cars Transfer): 1. Jonathan Davenport, 2. Chris Ferguson, 3. Ricky Weiss, 4. Brandon Williams, 5. Michael Brown, 6. Jensen Ford, 7. Payton Freeman, 8. Freddy Mooney
E-Z GO Heat Race #3 Finish (All Cars Transfer): 1. Kyle Strickler, 2. Ross Bailes, 3. Dale McDowell, 4. Matthew Nance, 5. Tyler Arrington, 6. Brenden Smith, 7. John Llewellyn
Current Schaeffer's Oil Spring Nationals Series Point Standings:
Carson Ferguson - 556
Jensen Ford - 548
Cla Knight - 542
Payton Freeman - 516
Brandon Overton - 400
Michael Page - 388
Mark Whitener - 388
Dalton Cook - 366
Ashton Winger - 354
Trey Mills - 338
Jamie Oliver - 336
Jimmy Sharpe, Jr. - 334
Ryan Rackley - 334
Chris Madden - 322
J.R. Moseley - 318
2022 Schaeffer's Oil Spring Nationals Series Schedule:
Friday, March 4 | Swainsboro Raceway, Swainsboro, GA | BRANDON OVERTON
Saturday, March 5 | Senoia Raceway, Senoia, GA | SHANE CLANTON
Friday, April 15 | Wythe Raceway, Rural Retreat, VA | BRANDON OVERTON
Saturday, April 16 | Tazewell Speedway, Tazewell, TN | $21,000 to win
Thursday, April 21 | Tri-County Race Track, Brasstown, NC | $4,053 to win
Friday, April 22 | Crossville Speedway, Crossville, TN | $4,053 to win
Saturday, April 23 | Clarksville Speedway, Clarksville, TN | $10,053 to win
Friday, May 6 | Boyd's Speedway, Ringgold, GA | $5,053 to win
Saturday, May 7 | East AL Motor Speedway, Phenix City, AL | $10,053 to win
Friday, May 27 | Lavonia Speedway, Lavonia, GA | $4,053 to win
Saturday, May 28 | Dixie Speedway, Woodstock, GA | $4,053 to win
Sunday, May 29 | Rome Speedway, Rome, GA | $5,053 to win
All races to be shown LIVE on FloRacing
For more information on the Schaeffer's Oil Spring Nationals Series presented by Sunoco Race Fuels, please point your Internet browser to www.SouthernNationalsSeries.com or feel free to call series promoter Ray Cook at 828-360-5353. You can also follow us across social media platforms on facebook.com/southernnationalsseries and on Twitter @sonationals.
The Spring Nationals Series would like to thank all of our 2022 marketing partners including: Schaeffer's Oil & Specialized Lubricants, Sunoco Race Fuels, American Race Tires, Delph Communications, E-Z-GO, Arizona Sport Shirts, Capital Race Cars, Collins Signs, DirtonDirt.com, FK Rod Ends, Hoosier Racing Tire, MasterSbilt Race Cars, Wiles Driveshafts, Vic Hill Racing Engines, The Steering Buddy, The Joie of Seating, and DirtCarLift.com.
---
Submitted By: Kirk Elliott
Back to News