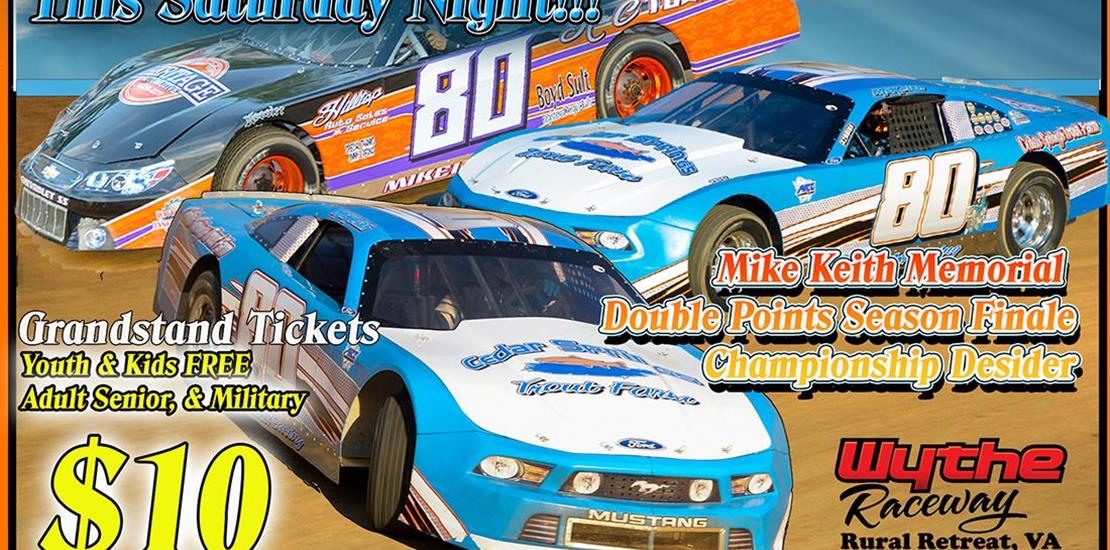 9/11/2023 -
Double Points 2023 Championship Decider! Racing: 602 Late Models, Aschenbach Super Street, Wythe Eye Modifieds, Randy's Tire Shop Pro Mini, UCAR, KCAR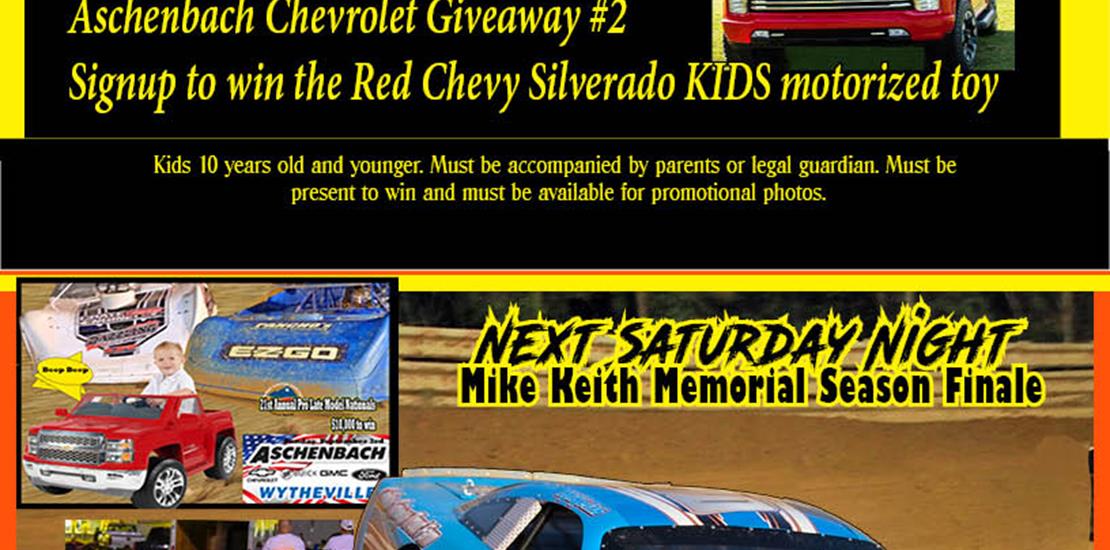 9/2/2023 -
Schedule of Events - We anticipate we will have over 40 Late Models, maybe 50.. This will be one heck of a show! $10,000 to win Late Model Racing SUND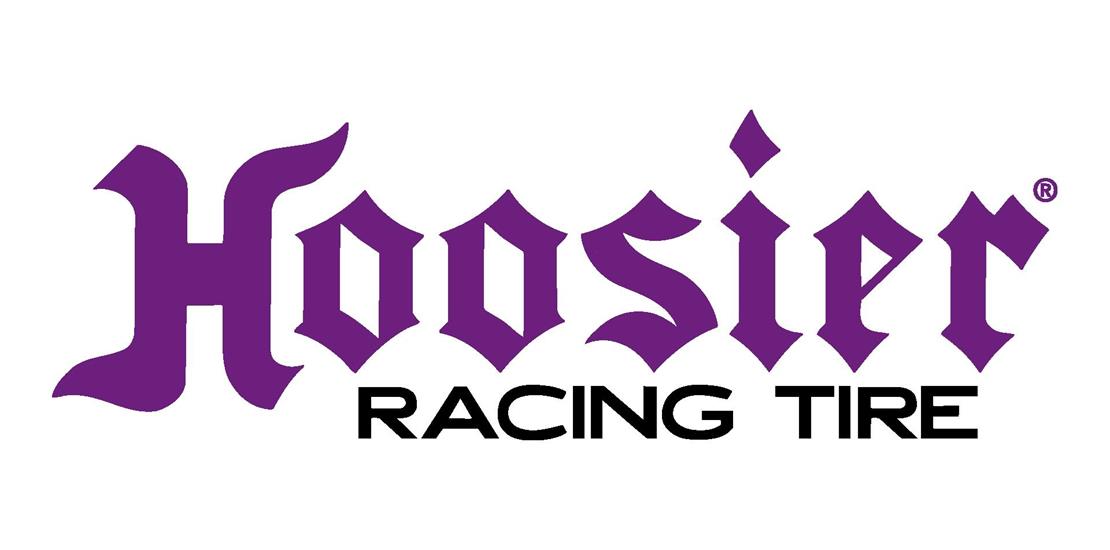 9/1/2023 -
HOOSIER TIRE SALE : $158.00@ IN STOCK TIRES SUPER STREET & MODIFIEDS AND PRO MINI. Fred Brown 276-620-2015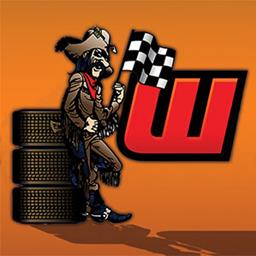 8/5/2023 - Wythe Raceway
Rural Retreat, VA
Grayson Restaurant Kid's Gold Rush
Grayson Restaurant presents the 2nd Annual ALL NEW Kid's Gold Rush ~ more than 10,000 coins dumped on the racetrack for kids to fill their loot bags and treasure chests full!
The ALL NEW Kid's Gold Rush!
For kids 10 and under.
What's new? Not Only will there be over 10,000 coins to loot, we are adding in Toys, Prizes, Candy and surprises to the loot.
Bring your Treasure Chest, loot bag and eye patch. Collect your spoils! You might want to bring your pirate ship' to help with your spoils'
CHUNKkk, baa bay root!!!
Racing: Aschenbach Super Street, Wythe Eye Modifieds, Randy's Tire Shop Pro Mini, UCAR, KCAR
Adult GA Ticket: $15
Seniors/Military GA Ticket: $12
Youth 7-12 GA Ticket: $5
Kids 6 & Under GA : Always Free
Pit Pass: $35
Youth 7-12: $20
Pit Gates Open: 5PM
Gates Open: 6PM
Racing Starts: Excitement at 7:30pm Start times vary with weather elements, sunset time and other factors.
Aschenbach Super Street

13 entries

Randy's Tire Shop Pro Mini

10 entries

UCAR

11 entries

KCAR

4 entries

Vintage Racing
Vintage Sportsman
Wythe Eye Modifieds

14 entries

602 Crate Late Models

6 entries
Full Event Information on MyRacePass
Aschenbach Super Street
Finish
Start
#
Competitor
Hometown
+/-
1
3
8
Jerry Dillow Bluefield, WV
Bluefield, WV
2
2
5
88
Michael Deskins Tazewell, VA
Tazewell, VA
3
3
1
94
Randy Taylor Chilhowie, VA
Chilhowie, VA
-2
4
4
3
Eddie Bentley Sugar Grove, VA
Sugar Grove, VA
-
5
11
50
Terry Sharp Woodlawn, VA
Woodlawn, VA
6
6
7
U1
Uriah Farris Marion, VA
Marion, VA
1
7
6
03H
Travis Hawkins Galax, VA
Galax, VA
-1
8
8
60
Jacob Thomas Marion, VA
Marion, VA
-
9
10
34M
Cody Moore Rural Retreat, VA
Rural Retreat, VA
1
10
2
40
Keith Griffitts Sugar Grove, VA
Sugar Grove, VA
-8
11
9
27
Roy Martin Wytheville, VA
Wytheville, VA
-2
12
12
17
Chuck Kinzer Woodlawn, VA
Woodlawn, VA
-
DQ
13
11
Dale Hancock Jr Marion, VA
Marion, VA
-
Finish
Start
#
Competitor
Hometown
Time
1
2
94
Randy Taylor Chilhowie, VA
Chilhowie, VA
21.166
2
8
40
Keith Griffitts Sugar Grove, VA
Sugar Grove, VA
21.308
3
5
8
Jerry Dillow Bluefield, WV
Bluefield, WV
21.324
4
11
3
Eddie Bentley Sugar Grove, VA
Sugar Grove, VA
21.590
5
6
88
Michael Deskins Tazewell, VA
Tazewell, VA
21.811
6
13
03H
Travis Hawkins Galax, VA
Galax, VA
21.986
7
7
U1
Uriah Farris Marion, VA
Marion, VA
22.357
8
10
60
Jacob Thomas Marion, VA
Marion, VA
22.416
9
4
27
Roy Martin Wytheville, VA
Wytheville, VA
22.518
10
12
34M
Cody Moore Rural Retreat, VA
Rural Retreat, VA
22.613
11
1
50
Terry Sharp Woodlawn, VA
Woodlawn, VA
22.915
12
3
17
Chuck Kinzer Woodlawn, VA
Woodlawn, VA
27.549
DNS
9
11
Dale Hancock Jr Marion, VA
Marion, VA
All transfer
Randy's Tire Shop Pro Mini
Finish
Start
#
Competitor
Hometown
+/-
1
23
Derek Farris Chilhowie, VA
Chilhowie, VA
-
2
69
Billy Cline Rual Retreat, VA
Rual Retreat, VA
-
3
3
Aaron Bowes Wytheville, VA
Wytheville, VA
-
4
45
Justin Farris Wytheville, VA
Wytheville, VA
-
5
8
Andrew Hudgins Bluefield, WV
Bluefield, WV
-
6
53
Nathan Golding Mount Airy, NC
Mount Airy, NC
-
7
11
timmy hill Galax, VA
Galax, VA
-
8
3D
Josh Dunford Rural Retreat, VA
Rural Retreat, VA
-
9
95
Kevin Atwell Rural Retreat, VA
Rural Retreat, VA
-
DNS
01
Chuck Johnson Marion, VA
Marion, VA
-
Finish
Start
#
Competitor
Hometown
+/-
1
4
23
Derek Farris Chilhowie, VA
Chilhowie, VA
3
2
2
3
Aaron Bowes Wytheville, VA
Wytheville, VA
-
3
3
69
Billy Cline Rual Retreat, VA
Rual Retreat, VA
-
4
5
8
Andrew Hudgins Bluefield, WV
Bluefield, WV
1
5
6
53
Nathan Golding Mount Airy, NC
Mount Airy, NC
1
6
1
45
Justin Farris Wytheville, VA
Wytheville, VA
-5
7
8
3D
Josh Dunford Rural Retreat, VA
Rural Retreat, VA
1
8
7
11
timmy hill Galax, VA
Galax, VA
-1
DNS
9
95
Kevin Atwell Rural Retreat, VA
Rural Retreat, VA
-
DNS
10
01
Chuck Johnson Marion, VA
Marion, VA
-
Finish
Start
#
Competitor
Hometown
Time
1
2
23
Derek Farris Chilhowie, VA
Chilhowie, VA
21.937
2
8
95
Kevin Atwell Rural Retreat, VA
Rural Retreat, VA
22.051
3
10
69
Billy Cline Rual Retreat, VA
Rual Retreat, VA
22.186
4
7
3
Aaron Bowes Wytheville, VA
Wytheville, VA
22.210
5
6
45
Justin Farris Wytheville, VA
Wytheville, VA
22.383
6
5
8
Andrew Hudgins Bluefield, WV
Bluefield, WV
22.402
7
1
53
Nathan Golding Mount Airy, NC
Mount Airy, NC
22.592
8
4
11
timmy hill Galax, VA
Galax, VA
23.547
9
9
3D
Josh Dunford Rural Retreat, VA
Rural Retreat, VA
23.576
DNS
3
01
Chuck Johnson Marion, VA
Marion, VA
23.576
All transfer
UCAR
Finish
Start
#
Competitor
Hometown
+/-
1
2
17
will hostetler Rural Retreat, VA
Rural Retreat, VA
1
2
1
00
Alex Eastridge Marion, VA
Marion, VA
-1
3
02
Duke Bare Meadowview, VA
Meadowview, VA
-
4
3
6
Daniel Hanshew Wytheville, VA
Wytheville, VA
-1
5
6
2
Tanner Tate Marion, VA
Marion, VA
1
6
7
1
Bradley Griffey Crockett, VA
Crockett, VA
1
7
5
34
Ricky Ward Chilhowie, VA
Chilhowie, VA
-2
8
10
80B
Braxton Surber Sugar Grove, VA
Sugar Grove, VA
2
9
4
T8
Gavin Arnold Wytheville, VA
Wytheville, VA
-5
10
8
45
noah taylor Bland, VA
Bland, VA
-2
Finish
Start
#
Competitor
Hometown
Time
1
1
00
Alex Eastridge Marion, VA
Marion, VA
24.795
2
4
17
will hostetler Rural Retreat, VA
Rural Retreat, VA
24.827
3
9
6
Daniel Hanshew Wytheville, VA
Wytheville, VA
24.871
4
10
T8
Gavin Arnold Wytheville, VA
Wytheville, VA
25.049
5
7
34
Ricky Ward Chilhowie, VA
Chilhowie, VA
25.164
6
5
2
Tanner Tate Marion, VA
Marion, VA
25.230
7
6
1
Bradley Griffey Crockett, VA
Crockett, VA
25.830
8
3
45
noah taylor Bland, VA
Bland, VA
27.492
DNS
2
3B
Kayla Surber Sugar Grove, VA
Sugar Grove, VA
DNS
8
80B
Braxton Surber Sugar Grove, VA
Sugar Grove, VA
All transfer
Wythe Eye Modifieds
Finish
Start
#
Competitor
Hometown
+/-
1
1
15
Morgan Widener Chilhowie, VA
Chilhowie, VA
-
2
2
12
Brandon Umberger Rural Retreat, VA
Rural Retreat, VA
-
3
3
28W
Patrick Wheeler Rural Retreat, VA
Rural Retreat, VA
-
4
5
2C
Cody Cook Newland, NC
Newland, NC
1
5
4
50B
Justin Blevins Chilhowie, VA
Chilhowie, VA
-1
6
8
50
Ronnie Covey Walnut Cove, NC
Walnut Cove, NC
2
7
13
27
Bryan Martin Sandy Ridge, NC
Sandy Ridge, NC
6
8
10
9
Cole Hedrick Wytheville, VA
Wytheville, VA
2
9
11
89
Dustin Dowell Sugar Grove, VA
Sugar Grove, VA
2
10
12
05
Travis Covey Walnut Cove, NC
Walnut Cove, NC
2
11
14
1B
Austin Blevins Rural Retreat, VA
Rural Retreat, VA
3
12
6
8P
Jason Powers Marion, VA
Marion, VA
-6
DNS
9
151
Kendall Bullins Walnut Cove, NC
Walnut Cove, NC
-
DNS
7
81
T.J. Hicks Rocky Gap, VA
Rocky Gap, VA
-
Finish
Start
#
Competitor
Hometown
Time
1
8
15
Morgan Widener Chilhowie, VA
Chilhowie, VA
19.494
2
2
12
Brandon Umberger Rural Retreat, VA
Rural Retreat, VA
19.559
3
11
28W
Patrick Wheeler Rural Retreat, VA
Rural Retreat, VA
19.840
4
6
50B
Justin Blevins Chilhowie, VA
Chilhowie, VA
19.982
5
7
2C
Cody Cook Newland, NC
Newland, NC
19.996
6
13
8P
Jason Powers Marion, VA
Marion, VA
20.073
7
4
81
T.J. Hicks Rocky Gap, VA
Rocky Gap, VA
20.105
8
1
50
Ronnie Covey Walnut Cove, NC
Walnut Cove, NC
20.304
9
3
151
Kendall Bullins Walnut Cove, NC
Walnut Cove, NC
20.387
10
9
9
Cole Hedrick Wytheville, VA
Wytheville, VA
20.525
11
5
89
Dustin Dowell Sugar Grove, VA
Sugar Grove, VA
21.044
12
12
05
Travis Covey Walnut Cove, NC
Walnut Cove, NC
21.215
13
14
27
Bryan Martin Sandy Ridge, NC
Sandy Ridge, NC
21.311
14
10
1B
Austin Blevins Rural Retreat, VA
Rural Retreat, VA
21.311
All transfer
602 Crate Late Models
Finish
Start
#
Competitor
Hometown
+/-
1
1
15A
Daniel Durham Elkin, NC
Elkin, NC
-
2
2
11G
Travis Greer Marion, VA
Marion, VA
-
3
3
15B
Chuck Melton Cana, VA
Cana, VA
-
4
4
300
Bill Tesh Germanton, NC
Germanton, NC
-
5
6
76
Aaron Sewell State Road NC, NC
State Road NC, NC
1
6
5
15
Morgan Widener Chilhowie, VA
Chilhowie, VA
-1
Finish
Start
#
Competitor
Hometown
Time
1
5
15A
Daniel Durham Elkin, NC
Elkin, NC
18.666
2
3
15B
Chuck Melton Cana, VA
Cana, VA
19.090
3
1
300
Bill Tesh Germanton, NC
Germanton, NC
19.407
4
2
15
Morgan Widener Chilhowie, VA
Chilhowie, VA
19.629
5
6
11G
Travis Greer Marion, VA
Marion, VA
19.887
6
4
76
Aaron Sewell State Road NC, NC
State Road NC, NC
19.887
All transfer